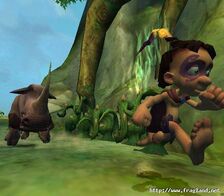 Tak, along with
Lok, is one of the main characters of Tak the Great Juju Challenge. He is a very tiny character. Tak is more serious than Lok, but tells jokes sometimes. Tak tends to lose more damage than Lok does, because he is smaller. Tak attacks with magical lights that can be made stronger with Blessing Gems. He is stronger than Lok, but can get pushed around with Lok's mallet. Tak cannot climb vines unlike Lok who can. However, unlike Lok, Tak can swim. As you progress through the game, the Jujus will give Tak spells. His Grapnel spell, will throw a magical light that aims at Lok and brings him to him. His Freeze spell, freezes all enemies within the area. His Spirit spell, casts three ghosts that defeat nearby enemies. His Barrel spell, summons an explosive barrel. However, when you start the game, Tak does not have these spells, as for you must progress through the game to get them.
Ad blocker interference detected!
Wikia is a free-to-use site that makes money from advertising. We have a modified experience for viewers using ad blockers

Wikia is not accessible if you've made further modifications. Remove the custom ad blocker rule(s) and the page will load as expected.